Hillside Containers, for shipping container sales & hire, Cornwall.
Hillside Containers is based in Redruth, Cornwall. We have over a decade of experience in the shipping container and haulage industry.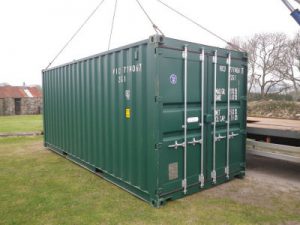 Hillside Containers provide the very best in new and used shipping containers for sale or hire. We are able to deliver shipping containers anywhere in mainland Great Britain with our crane assisted truck, and always have shipping containers available at competitive prices. Our shipping containers are ideal for self storage, moving house and much, much more.
20ft shipping containers are our most popular size. We are able to supply new and used 20ft shipping containers for long and short term hire as well as for sale at competitive prices. Our 20ft shipping containers are ideal for storage purposes and provide a secure internal environment which is wind and water-tight.
Most of our shipping containers are finished in green or blue.
In terms of dimensions, the standard ISO 20ft shipping container has the following measurements: 20ft x 8ft wide x 8ft 6inches high (6,058mm x 2,440mm x 2,591mm). Internal volume of a 20ft unit is approximately 33.2 cubic metres and these units have an approximate tare weight of 2,200kgs.
For a prompt, efficient and cost-effective service please call Hillside Containers, Cornwall on 0776 878 0695 or email: stephenshillside@yahoo.co.uk
Hillside Containers, Cornwall, is one of the leading shipping container suppliers in the south west.
At Hillside Containers we always have new and used shipping containers for sale. Made from steel, our shipping containers will stand up to the harshest elements. Our shipping containers are completely wind and watertight and are a popular choice for a number of storage solutions. Our shipping containers provide safe and secure storage for just about anything. Alternative uses for shipping containers are many, including use as offices, canteens, changing rooms, stables, club houses, artist studios and workshops. Hiring a shipping container is a good short-term solution if you are unsure how long you require a shipping container for. We have shipping containers available for either short or long-term hire.
If you are interested in buying or hiring a new or used container, please call 0776 878 0695 or contact Hillside Containers.